Time for my monthly post on my fitness endeavors, I believe.
This past month was a big turning point for me with health, diet, and exercise. I started changed the way I thought about 'health' back in December, and slowly but surely I've morphed my daily habits into what they are now.
In
December and January
I was more focused on exercising than I was on dieting. I figured if my calories OUT were more than my calories IN, I'd surely lose weight. I also thought that just doing cardio would be enough to accomplish all my fit-body goals. Those two months were incredibly frustrating for me, as I would gain a little and then go back down to my starting weight over and over and over. I never lost a pound or saw the slightest change in my body.
In
February
I started to lift weights a little in addition to my cardio. And rather than just hopping on the treadmill to jog one or two miles, I'd do intervals of running hard followed by walking at a steep incline followed by jogging for 1/4 mile followed by running at an incline, etc. I did start to see some results from this change in exercising, but my diet was still absolute crap.
This month
I decided that I was going to completely change everything up. I started doing Jillian Michaels Body Revolution 6 days a week (I'm almost finished with week 2) and I've been doing yoga in addition to her workouts. I'm not really doing any work on the treadmill because Jillian kicks my ass with her cardio workout and she does a LOT of work with dumbbells. I LOVE her program.
I also did a short 3-day trial of her metabolism-boosting diet. She says to do it for one week only (I didn't last the whole week!) and not to do it more than once in a 90-day period because it's so extreme. The fact that I lasted 3 days surprised even ME. It was tough. But it has completely changed the way I think and feel about food.
I have only been doing her program for 2 weeks and I feel so much stronger already. I feel like I can push myself harder and lift heavier and try things I didn't think I'd be capable of doing. I really feel like this month has been my "ah-ha" month.
*I set this one up with the self-timer and didn't get my whole body in the frame. haha One of the yoga workouts I've been doing has you do a 'wheel' pose (which, of course, they do very gracefully) and I was scared to try at first....but over the course of the last couple weeks, LOOK! Far from perfect, I can actually heft myself up into the air now! I couldn't do this a month ago*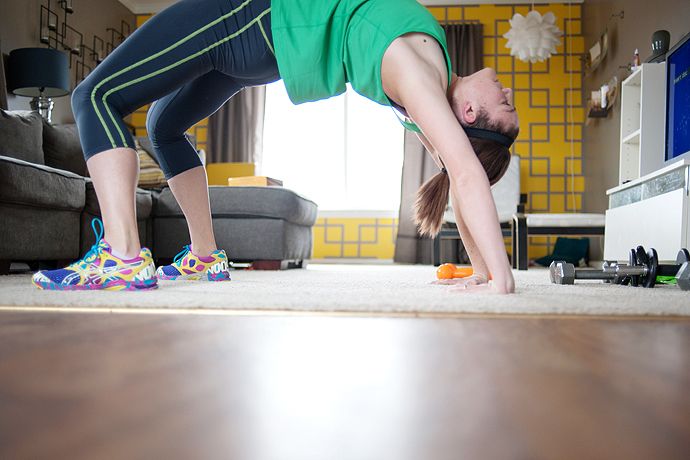 Again, please, don't tell me
"You don't need to lose weight!"
People keep telling me that and I just smile and brush it off because those people don't understand what I'm trying to do. I'm not trying to be
SKINNY
. I'm not trying to be a size zero.
I will never be a size zero
. Hell, I'll never even be a size
8
...that's just not how I'm built. My goal in this is to be fit....I want to be strong, toned, and lean.
And I'm pretty sure that with this program I'm doing, there is no way I can't accomplish those goals. Jillian is tough and her workouts are intense (I watched the workouts for weeks 10-12 and HOLYCRAPTHEYLOOKSOCRAZY!) but I'm really excited to get up and do them every day.
So this is my update for March. Hopefully I'll have more good news in April.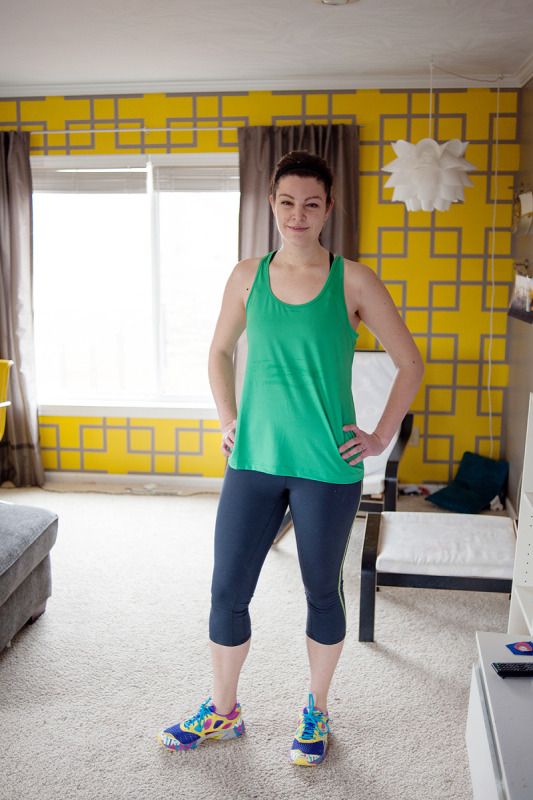 Also, did anybody notice how good my husband was looking in the picture from yesterday? He's been working out twice a day since January and has lost a pretty good amount of weight already! He lifts weights over his lunch break with a friend, and then he does a UFC 'fighting-type' workout thing every evening at home. :) Go, Calvin!