Oh my gosh I have nothing to say today!! I've been trying to come up with some amusing story all day long, but nothing much has happened and I haven't felt like taking any pictures. Maybe I'll do a bulleted list of random topics and call it good.
~"Snow-pocalypse" was slated to hit us pretty hard on Sunday. I --personally-- was a little excited. No, I'm not one of those people who just goes ape-shit crazy over snow, but we really haven't had a good accumulation of snow in two years! The last couple of winters have been so depressingly brown and sludgy. Winters in Verm would be the perfect location for the Cullen family...every day is super overcast and depressing.
Imagine my disappointment when this was the scene out my window on Sunday afternoon. (iPhone)
Yay, snow-pocalypse
.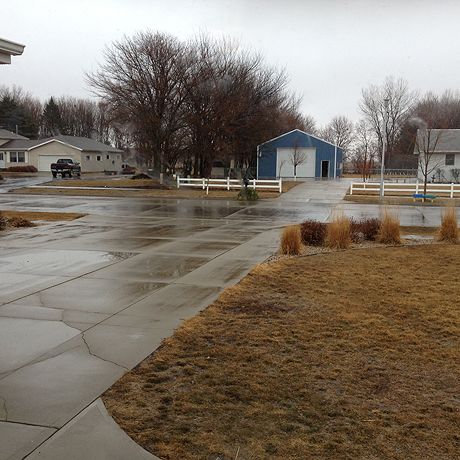 Conversely, this was the view from my parents' front door.
Mom also texted me this picture today. Not sure where she was, but it does show the drifts that they got!!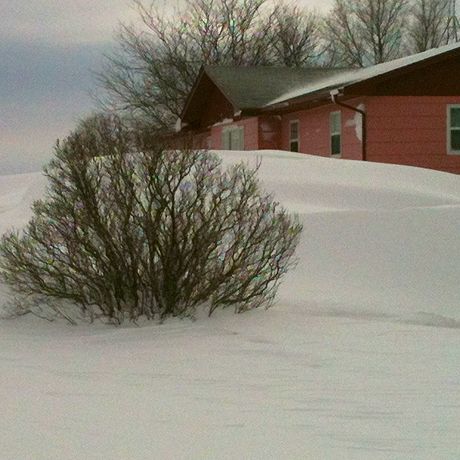 ~Peyton came out of school today and told me about this group of girls called the "
Perfs
". It's short for "
Perfects
" you know. Because these wonderfully-mannered little girls think that they are PERFECT and dubbed themselves as such. They think that they are much superior to
every other
little girl at Jolley Elementary and have no reservations pointing out others' flaws.
I had to restrain myself from going completely cray-cray when I talked to her....but I did tell Peyton that they will likely grow up to be miserable because
nobody
will like them. Sure, people will be afraid of them, but they won't have any real friends because they are so mean. Being 'popular' doesn't get you anywhere after high school, and kids who have bad attitudes when they're 9 years old will continue to have bad attitudes throughout their entire lives....and she's better off ignoring them and being as happy as she can be doing her own thing. She's smart and nice and she has great friends and doesnt need them anyway. And NOBODY is perfect.
The good news is that this stuff doesn't really seem to torment her (or, honestly, bother her in the slightest) so yay for Peyton. In situations like these she is a lot more mature than I am. I wanted to screech back to the school parking lot and tell those girls exactly what I thought was wrong with each of
them
;)
~Calvin was putting the boys in the tub tonight while I washed some dishes. I heard him yell "Oh no! Colton, get back here!" and then I saw a bare naked baby streaking past me with the most insane expression of absolute delight on his face. I said "Run baby, run like the wind!" and he giggled and started stomping faster. He runs like a drunk velociraptor.
Calvin then told me "He's peeing!!!!"
Oh. Well, that changes things!
It was still cute anyway ;)
~I gave Hudson the unoffical "Kid of the Day" award (his reward was a hug, which he was SO happy to accept!) because he is the. best. boy in the world. I am still feeling queasy and today was just downright nauseated again. I put Colton down for his nap and told Hudson "Buddy, can you find something quiet to do while Mommy rests for a little bit? My tummy hurts." He happily played in a fort with his stuffed animals and watched an episode of Sesame Street while I slept for a blissful hour. When I woke up we did some preschool worksheets, had a popsicle, and quietly listened to some music while we waited for Colton to get up. I tell you, Hudson is going to make some woman very happy some day....he's just a perfect little man :)
~Emmy is *finally* over her stomach flu. She went to school today and hasn't stopped going a mile a minute since I picked her up. I've had to remind her over and over to "please settle down!!" because I swear she's going to go into orbit soon. I guess she saved up all her energy over the weekend and is unleashing it today.
~I'm going to try to squeeze my arm workout in despite not feeling 100%. I did a light walk on the treadmill last night without puking, so I'm sure I can manage a few reps with the weights tonight. I once read something that stuck with me: "You can't get much done in life if you only work on the days when you feel good." True enough.
And that's been my day!