**First of all, I want to say that I HATE this song, but it accompanies the story so beautifully, I just knew I had to track it down!! It will be GONE tomorrow, believe me!**
My girls are all about being "fancy". Ever since we discovered the Fancy Nancy book series a few months ago, they are ALWAYS wanting to play "fancy" (in the pre-Nancy days we referred to it as "dressup"). Emerson has come up with some of THE funniest little sayings, one being "Hello! Beauty Shop Hotline!" when she answers the phone. They've also been choreographing an elaborate "fancy" dance during the past few nights, and they're always getting into my makeup without my knowledge and telling each other "Oh! You are just gorgeous!" STINKERS!!
Well, my cousin Katie stopped by this evening to drop off a baby gift and we got to chatting. Pretty soon, Emmy came down the stairs to inform me that they had decorated their horse. Hmmmmm. . . that's a new one. I said goodbye to Katie and started walking up the stairs. As I got closer and closer to their room, I began to smell finger nail polish. I have NO idea where they came up with it, because I discarded any and all finger nail polish from their collection after an awful incident a while back.
They must have had a secret stash.
I opened their door to find ALL of my makeup strewn about their room, and their beautiful horse from Santa all fancied up, complete with shoes, Mardi Gras necklaces, and nail polish on her eyeballs. *SOB* I instantly said, "Girls! Do you realize that your beautiful horse is ruined?! That stuff is not going to come off!" Obviously Peyton hadn't taken that into consideration and started bawling and bawling. . . then I felt bad, so I promised I'd take her downstairs while they got ready for bed to try to fix her up.
AFTER
a few pictures, of course. ;) I seriously can't be upset with something this funny. Just look at our fancy equine friend!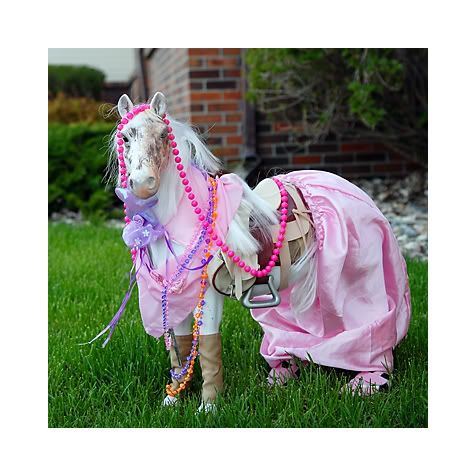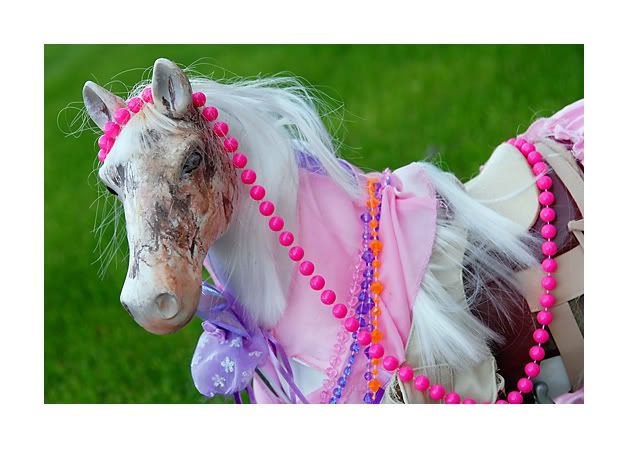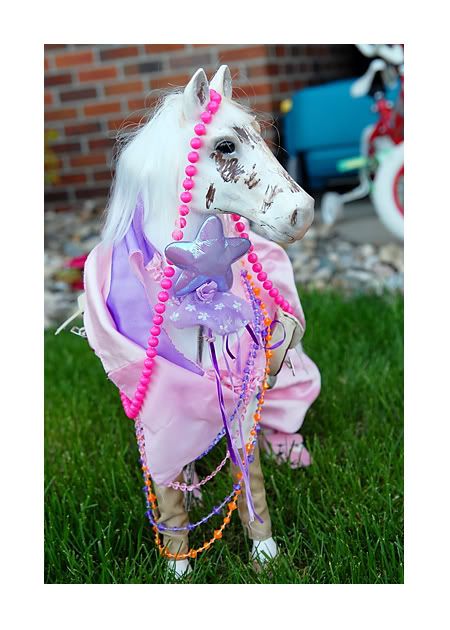 Oh, gosh. . . what a memory!!